Preprotein convertases, Tumor Invasion and Metastasis
Led by : Abdel-Majid Khatib
Le groupe s'intéresse aux rôles de la maturation des protéines par les convertases dans la progression tumorale, l'angiogenèses et les métastases. De nombreuses protéines produites sous forme de précurseurs subissent un clivage protéolytique permettant ainsi leur activité biologique. Ce processus de maturation est contrôlé par des enzymes appelées protéines convertases (PCs).
Nous sommes des initiateurs dans ce domaine de recherche scientifique. Nos résultats antérieurs et récents ont permis de définir une nouvelle opportunité thérapeutique basée sur l'inhibition de la maturation et l'activation de protéines impliquées dans la carcinogenèse, l'angiogenèse et la métastase. Ces travaux ont mis en évidence le rôle de la maturation des substrats des convertases comme des métalloprotéases, des molécules d'adhésion, des facteurs de croissance et leurs récepteurs, dans l'acquisition du phénotype malin des cellules tumorales.
Nous avons été les premiers à identifier les PDGF-A, PDGF-B et VEGF-C, facteurs de croissance impliqués dans la prolifération cellulaire, l'invasion, l'angiogenèse et la progression tumorale, comme substrats des convertases. Nous avons montré également que l'inhibition de leur maturation par des inhibiteurs spécifiques reverse le phénotype malin de cellules de carcinome du colon humain ainsi que leur capacité à induire l'angiogenèse des tumeurs chez la souris nude. De plus, nous avons montré que l'inhibition de la maturation du PDGF-A et VEGF-C par mutation de leur site de clivage par les convertases, inhibait la formation des tumeurs et des vaisseaux sanguins et lymphatiques.
Notre programme de recherche vise a :
1- Etudier l'importance de la maturation des protéines par les convertases dans la progression des tumeurs, angiogenèse et metastases.
2- Identifier dans les cellules tumorales et endothéliales de nouvelles protéines affectées par l'inhibition des convertases (substrats et effecteurs).
3- Biologie clinique : Evaluation de l'importance des convertases comme facteurs pronostiques et/ou thérapeutiques.
Le programme de recherche met en jeu diverses approches, in vitro et in vivo (souris, poisson zèbre), des modèles murins de métastases jusqu'au développement de biologie clinique chez des patients. Les convertases, en activant plusieurs protéines impliquées dans les processus de tumorigenèse, d'angiogenèse et de métastases, représentent un potentiel thérapeutique intéressant. La conception ou l'identification d'inhibiteurs des convertases puissants et spécifiques en tant qu'agents respectivement anti-tumoraux et/ou anti-métastatiques pourrait déboucher sur de nouvelles stratégies ciblées seules ou en combinaison avec les agents déjà existants pour le traitement ou la prévention des métastases.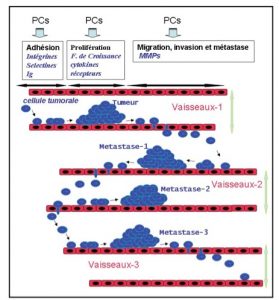 Représentation schématique du rôle des proprotéines convertases (PCs) dans la régulation des processus impliqués dans la formation de métastases. Regulation of carcinogenesis, angiogenesis and metastasis by the proprotein convertases: A new potential strategy in cancer therapy. Khatib AM (ed). Springer Science. Kluwer Academic Publishers. 2006 .